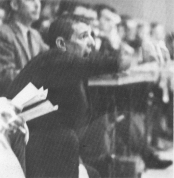 Lou Carnesecca
From the playgrounds, high school, college, and professional courts; New York City basketball is the most ferocious competition in sports today. The game gets highly emotional, the trash talking, and the crowd gets into the game. For nearly 50 years, basketball has been a hotbed in New York. It has been the main target for college scouts, agents, and other recruiters. All season long, there are basketball leagues going throughout the five boroughs indoor and outdoor. People from across the United States come to play and watch the leagues in the city.

New York City hoops have produce some of the greatest basketball players from the past, present, and future. You have your playground legends, All-City players, College All-Americans, and NBA players. Their stepping stones start at the local parks, elementary school gyms, and the high school level.

Chris Mullin
Please drop me a line and let me know what you think of this site. Also, feel free to contribute to this site with your own tips. My email address is: chris_ramirez@hotmail.com
Please sign my guestbook.

Thank you.